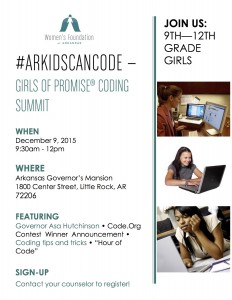 We're is excited to announce an upcoming event, #ARKidsCanCode – Girls of Promise Coding Summit, sponsored by the Women's Foundation of Arkansas, in collaboration with the Office of the Governor and Code.org. The coding summit will be held at the Governor's mansion on Wednesday, December 9 from 9:30-12:00 in celebration of Computer Science Education Week.
We would like to invite your 9th – 12th grade female students to attend this special free event geared at encouraging girls to develop an interest in coding. Both novices and experienced coders will enjoy the event and have an opportunity to spend time practicing the coding they learn (with plenty of experience coders on hand to help).
Governor Hutchinson will be welcome the girls, as will the CEO of Code.org, an organization dedicated expanding access to computer science, and increasing participation by women and underrepresented students of color. During the event, they will announce the Arkansas school recipient of their contest awarding $10,000 worth of technology.
After the welcome, the "Hour of Code" will begin. There will be a short tutorial to get the girls started, followed by an hour of hands-on coding led by Sarah Daigle, Alia Borroho, and Amanda Potter Cole. The girls are encouraged to bring their own laptops (or the school's), but there will be a number of computers available for those who don't have one.
We don't want the coding to stop after this event, so as part of the event's wrap-up we will be kicking-off a contest for the girls to develop an app, website, computer program, etc. Submissions must be sent in to the Women's Foundation of Arkansas by February 15th. We will then choose 5-7 finalists to return to Little Rock in March to have their apps judged by the 8th grade girls attending our annual Girls of Promise conference. The sponsor for the contest is still be finalized but tell your girls to expect AWESOME prizes (think laptops, scholarship money, etc.)!
This should be a fun and informative day for your students, we hope you are able to participate! The soft deadline for responding is December 1, 2015. To ensure that as many girls from around the state can attend, we've currently limited registration to 5 girls per school. However, if there are more girls from one school excited about this event, the please contact us.
Go to the event page for the registration form and more information.