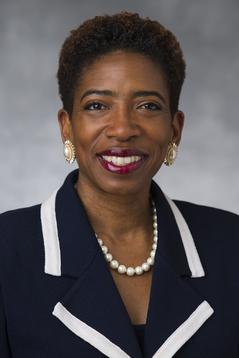 Carla Harris is a Vice Chairman, Global Wealth Management, Managing Director and Senior Client Advisor at Morgan Stanley. Ms. Harris has extensive industry experiences in the technology, media, retail, telecommunications, transportation, industrial, and healthcare sectors. In August 2013, Carla Harris was appointed by President Barack Obama to chair the National Women's Business Council.
Ms. Harris was recently names to Fortune Magazine's list of "The 50 Most Powerful Black Executives in Corporate America"; U.S. Bankers Top 25 Most Powerful Women in Finance (2009, 2010, 2011), Black Enterprise's Top 75 Most Powerful Women in Business (2010), to Black Enterprise Magazine's "Top 75 African Americans on Wall Street" (2006-2011), and Essence Magazine's list of "The 50 Women Who are Shaping the World", Ebony's list of the Power 100 and "15 Corporate Women at the Top" and was named "Woman of the Year 2004" by the Harvard Black Men's Forum and in 2011 by the Yale Black Men's Forum.
Ms. Harris began her career with Morgan Stanley in 1987. Prior to joining Morgan Stanley, Carla received her MBA from Harvard Business School, Second Year Honors and an AB in economics from Harvard University, Magna Cum Laude. Carla is actively involved in her community and heartily believes that "we are blessed so that we can be a blessing to someone else".
Join us at the 2015 Power of the Purse – Little Rock!
The Power of the Purse luncheon will be held on September 30 at the Little Rock Marriott from 11:30 a.m. to 1:00 p.m. Reservations are $100 per person or $1,000 for a table of 10.
Conger Wealth Management is the Power of the Purse Presenting Sponsor, Little Rock Soirée is the Media Sponsor, Southwest Airlines is the Travel Sponsor. Morgan Stanley serves as Partner Sponsor, and Arkansas Blue Cross and Blue Shield and Wright, Lindsey & Jennings LLP are Benefactor Sponsors.
Additional sponsorship opportunities are available. For more information, click here.