Save10
Preparing Women for Retirement.
Empowering Women to Commit 10% to Retirement.
Learn More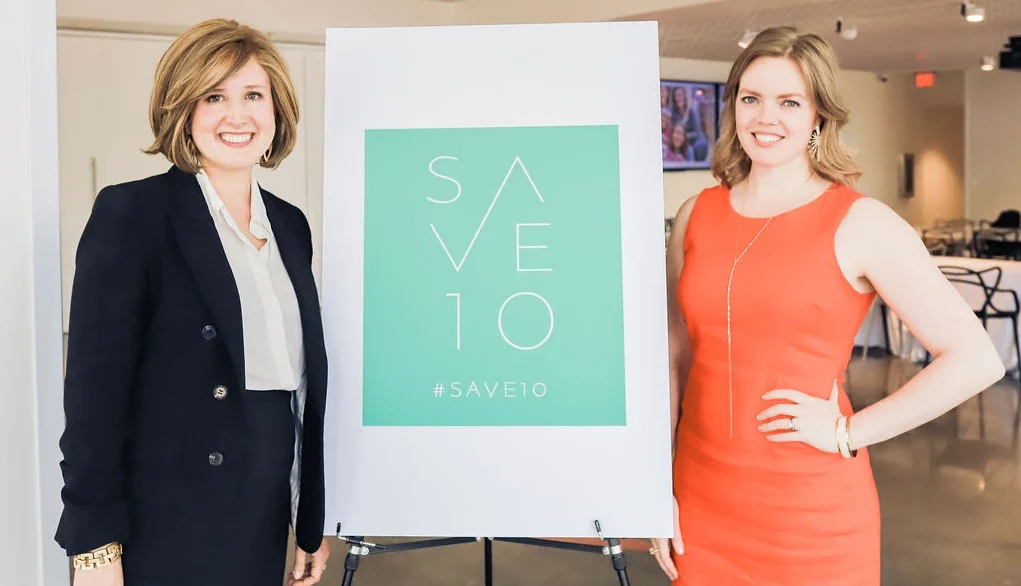 Half of retirees retired on Social Security alone, and the research is bleak on the following generations. The 401(k) experiment has largely been a failure because people simply aren't using their retirement plans to save for their future.
And women are particularly vulnerable. Women have longer life expectancies than men, step out of the workforce more often as caregivers, and they make less than men. This means saving is more critical for women than men. But studies show that we have a gender wealth gap where women "own" or save $0.32 on the dollar compared to men.
Saving for retirement is something we all need to do, but we believe that focusing on women will ensure that their kids, spouses, friends, and colleagues save too.
Research concludes that once people start saving into a retirement plan there is little likelihood they will change it, and the younger they start the better. We know that most young people under 30 could elect to save 10% into their work retirement plans or personal IRAs and then be able to retire at 65, the normal age of retirement.
Part of the goal of this movement is to normalize savings in the same way that we have normalized debt. And once normalized, we will have public savings declarations to encourage others to do the same. That is why we want partner organizations to concentrate their resources on their public commitment, and we will ask people who increase their savings to make it public through social media.
The Women's Foundation of Arkansas is going to be home for this movement, celebrating the many efforts to get out the Save10 message and collecting the data on savings increases to make Arkansas a model for other states to mobilize women and communities to collectively save for retirement.
Save10 Resources
2020 Save10 Webinar | Preparing for & Weathering Unemployment
This webinar covers preparing for unemployment, including building an emergency fund, as well as weathering a loss of income whether you have been furloughed, laid off, or are a small business owner experiencing a loss of income.
2020 Borrowing Smart: Finding & Building a Relationship with a Trustworthy Lender
Credit Counseling of Arkansas, FORGE Community Loan Fund, and Communities Unlimited walk small business owners through identifying favorable lending terms, avoiding predatory lenders, and managing if you already have a loan with predatory terms. They also discuss trustworthy lending products they offer, as well as some additional resources they have to help businesses weather COVID-19.
Find additional resources here from the Women's Foundation of Arkansas.
Retirement saving feels overwhelming and confusing?
You are not alone. That is why we have a few helpful pieces on how to "Save10" into your retirement plan, into an individual retirement account, or via emergency savings/debt repayment.
Companies and Save10
Celebrate your company's 401(k) on 10/10, and encourage your employees to sign up or increase their savings. Here is where to start. You can even request a speaker to explain Save10 and inspire employees to save for retirement.
Did you host a Save10 day? We would love to know the impact it had on your employees! Please fill out this survey letting us know how it went!
Organizations and Save10
We are overwhelmed at the community groups that are already hosting Save10 themed lectures and events. Do you have a constituency that could use the message of saving? Click here to request a Save10 speaker and to partner with us.
Save10 Speakers Bureau
We are so grateful for your commitment! As a volunteer speaker on behalf of Save10 and the Women's Foundation of Arkansas, you will be giving the gift of the message of saving for our future selves.
Once you are a certified speaker, here is are some resources for helping your company or organization sponsor a Save10 day on 10/10.
We ask that you complete a Volunteer Save10 Speaker agreement, which will be emailed to you after you've completed the Save10 Speaker Training program.